Contact vacation rental Bed & Breakfast italy
Empty "damigane", wicker bottles waiting to be refilled with the wine coming from the last harvest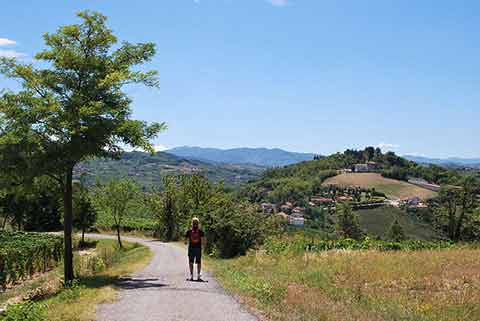 Hiking through the vineyards
A beautiful cake in the shop window of a 'pasticceria'.
If you wish to receive further information and would like to know more of the opportunities to stay at our vacation rental bed & breakfast and what the Oltrepò Pavese has to offer, you can of course write us or reach us by telephone:
Nico Boots en Stef Smulders
fraz. Spagna 9
27047 Montecalvo Versiggia (PV)
Italia
Tel.: +39 0385 836048
Mobile: +39 3468572343 or: +39 3485595064
You can also send us an email with all your questions.
If you are interested in our experiences with the immigration in Italy and to know what the pitfalls are in buying a house in Italy, come to our holiday home and we will tell you all about it!

A 'passegiata' or stroll in the vineyards
The padroni are looking forward to your arrival
Cheese on the local market
Truffles on the yearly 'Fiera di Tartuffi' in San Sebastiano al Curone. Click on the photo above for more pictures
Panorama view on the hunting grounds of the Earl of Vistarino, the most important man in the community of Rocca di Giorgi.