Villa I Due Padroni is centrally located in Northern Italy making it possible to visit within one day
one of the larger cities

the great lakes in the north

or even the Mediterrenian.
Cities
For a day out in the city, Pavia is the first choice with respect to location of the villa. Pavia is a charming, and historic city with a good mixture of sights (don't miss the old university buildings!) and shops. Of course there are plenty of restaurants and bars, for instance in its central square, Piazza Vittoria with its many terraces. We have been living in Pavia for half a year and can provide you many suggestions where to go in Pavia. 
There are a few must-see sights in the vicinity of Pavia: the monastry of Certosa di Pavia (worth the detour according to the Guide Michelin , see our video presentation) and the beautiful Renaissance-square of Vigevano.
Milan
A visitor to Lombardy really cannot miss its capital. Milan is not only the seat of the regional government and the financial capital of the country, but is also a bustling city full of energy where you shop your heart out. There are lots of museums and monuments worth visiting. You can read more about it in the special Milan site.
Do you love design and fashion, but you also love the cheap bargains? You can find it in Milan, but you don't even have to go there. In an hours drive from the villa you find two large outlet centers with all the big fashion brand names present: Fidenza Village en Serravalle Designer Outlet.
Further away but still within a two-hours driving distance lie the cities of Genua, Turin, Bergamo, Parma, Cremona and Piacenza.
Piazza del Duomo, Milano
The lakes and the sea
Several of the great northern italian lakes can easily be reached within one day, like Lake Como, Lago Maggiore and Lake Lugano at the Swiss-Italian border.
An Italian holiday without dipping into the Mediterrenean is hardly imaginable. Fortunately, a day-out to the sea can be done quite easily from the villa, as we know from experience.
For the passionate sun-bather there is a fast route to the beach via the motorway, but it is definitely worth the effort to take the long and winding road through the Ligurian Alps. There is hardly any traffic and this three hours scenic route to the sea offers spectacular mountain views.
Finally you reach Chiavari, where you can find pleasant beaches. At the end of the afternoon you drive along the coast to Portofino and Camoglia. A dinner on the beach during sunset is then a perfect closure of a wonderful day.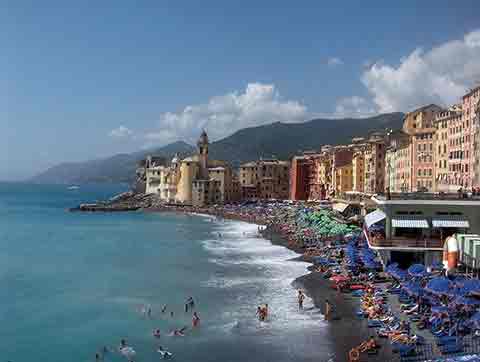 The beach at Camogli